SAVE 👉 on 2 posters 15% - 3 posters 20% - 4+ posters 25%
the discount is deducted on the payment page
Sale price
179,00 kr
Regular price
179,00 kr
Unit price
per
Sale
Sold out
---
✓ Cheap Delivery
✓ Delivery 3-8 work days
✓ Solid wrapping
✓ 30 days return policy
---
Information:
OBS: 100x140 cm frames are NOT shipped outside Denmark
The frame sizes are internal dimensions, and are therefore the size of the image it fits.
The frame has a metal suspension on the back, so it can be hung both vertically and horizontally on the wall. The frame opens from the back using the metal clips that rotate to the side, making it easy to frame your art.
It is not possible to run a store without leaving its mark on the environment. But there is no reson not to leave as few marks as possible.
That's why we print on FSC-labeled environmental paper and only use wooden frames made of FSC-labeled wood. It is your assurance that the products come from sustainable production
We print in Denmark and your posters will only be printed when you order. In addition, we only use water-based pigment inks that have a very long shelf life.
At PLAKATfar, it's not about selling as many posters as possible. Every single motif is therefore carefully selected and processed, by ourselves.
We print exclusively on 230 gr. matt paper. It may not tell you much, but when you have it in your hands, you have no doubt about the quality. The strong paper ensures that the posters do not curl in the frame.
Our frames are made of the best materials, and in a high quality level. The wooden frames are of course made of solid wood, which gives you both a beautiful vivid framing of your pictures, and our oak frames will fill your living room with the scent of freshly cut wood.
"We are not the cheapest on the market - but you will love our quality and customer service"
At PLAKATfar we have always delivered extremely high customer service. Simply because it is the only right thing to do. It should be nice and easy to shop with PLAKATfar, even if you regret your purchase.
We never ask our customers for reviews, but are very touched by the great reviews we get anyway, every now and then. You can read them by clicking below
PLAKATfar is a small Danish poster and picture shop that only sells unique own productions. The shop is 100% our own - Agnete Lønstrup and Niels Kliim, so we can do what we want - and we do ;)
View full details
---
---
Massivt træ og stærke samlinger
Alle vores trærammer er fremstillet af massivt træ, og med stærke hjørnesamlinger.
Lodret eller vandret - Du bestemmer selv
Alle vores rammer har ophæng, på bagsiden, så du kan hænge dem præcis som du ønsker.
Brug rammen igen og igen
Alle vores rammer er skifterammer, så du selv let kan skifte billedet og genbruge rammerne.
---
DESCRIPTION
Wooden frames in black painted wood
Wooden frames are very popular, and nowadays you can buy wooden frames in all sorts of colors, but black-painted wooden frames are still just the most popular. It is also one of the wooden frames we sell the most.
One of the reasons for the success of the black wooden frames, must probably be found in the classic look. We can all see it for ourselves. The beautiful picture or the beautiful poster on the wall, framed with a black border around. It will always work and look good.
Black wooden frames in a nice design
Our delicious black wooden frame, originates from Italy. The frame's sleek and elegant profile has razor - sharp corner joints, and it comes with glass, also on the large frames in 50x70 cm .. The black wooden frames of 70x 100 cm are delivered with acrylic front. 
At Plakatfar, you do not just get a good-looking wooden frame. You get a black wooden frame made of solid wood. Unlike "wooden frames", where the surface is foil glued to some cardboard-like wood, you can both feel and experience the real thing.
With your fingers you can feel the markings from the veins of the wood, on the silky soft surface, while with your eyes you will experience the organic structures of the wood in it, otherwise tight and precise framing.
Buy your black painted wooden frames in many sizes
At Plakatfar you will of course find black wooden frames in many sizes. From the very small wooden frames of 15x21 cm (A5) over the medium-sized black wooden frames in A4, 30x40 cm and A3. For the slightly larger black wooden frames of 40x50 cm and in A2 size. All the way up to black wooden frames of 50x70 cm and 70x100 cm.
You should note that when we talk about frames made of wood, the size of the frame profile itself increases, in line with the size of the frame. For example, the edge of the small black wooden frame of 15x21 cm is 14 mm wide, while the same edge of a 70x100 cm wooden frame is 21 mm wide.
This is perfectly normal and no problem. The large frames would not be able to hold if made with the small profiles, while small frames would look lumpy if made with large profiles.
Do you want a very narrow black edge, on both your small and large profiles, then take a look at our black metal frames.
NOTE: 
If you buy your posters framed, you save between 30 and 45% on the frames. You simply select the frame on the same page as you buy your poster.
And as with all our other items, you will of course get free delivery of your new frames, no matter how many you buy. As long as you only have an address in Denmark.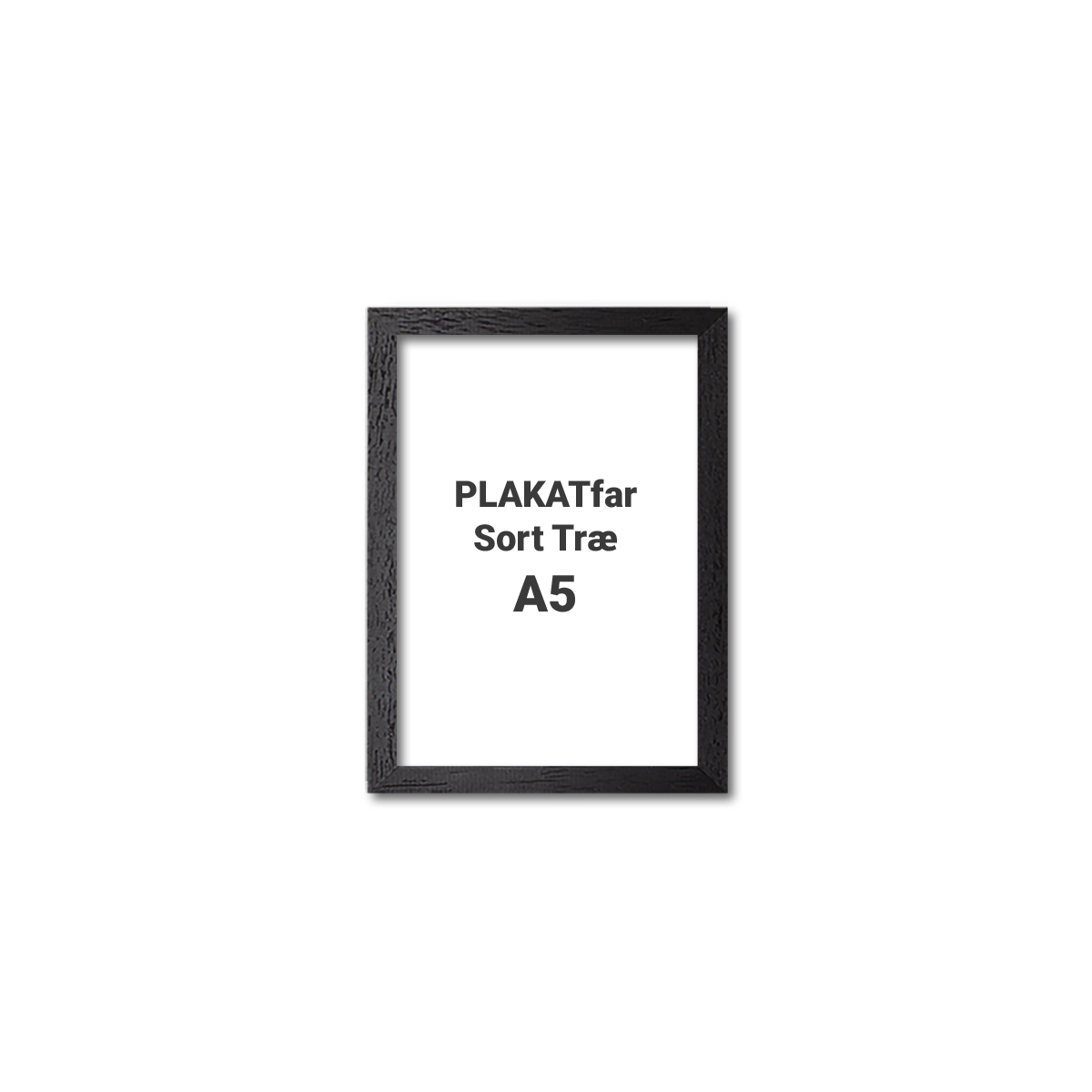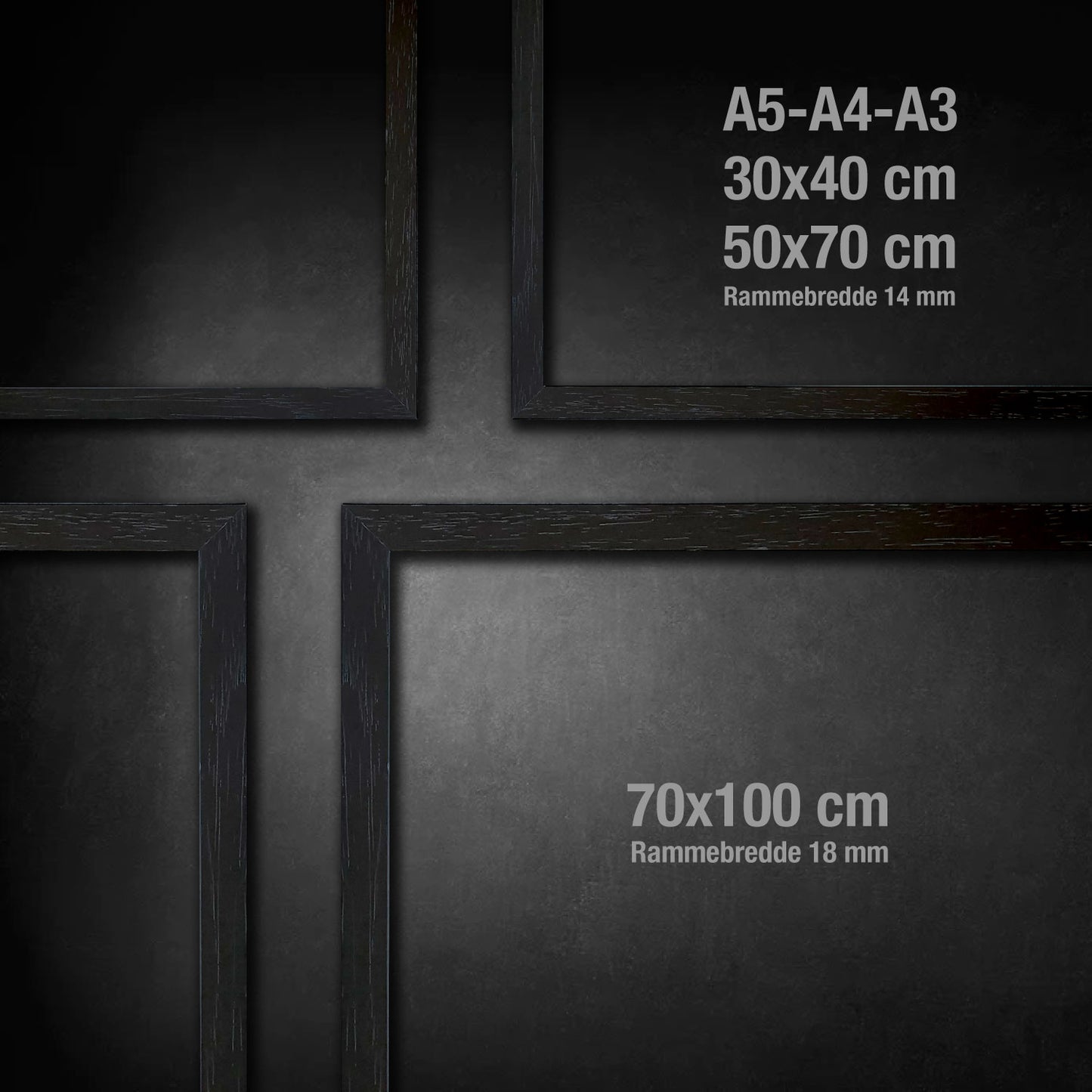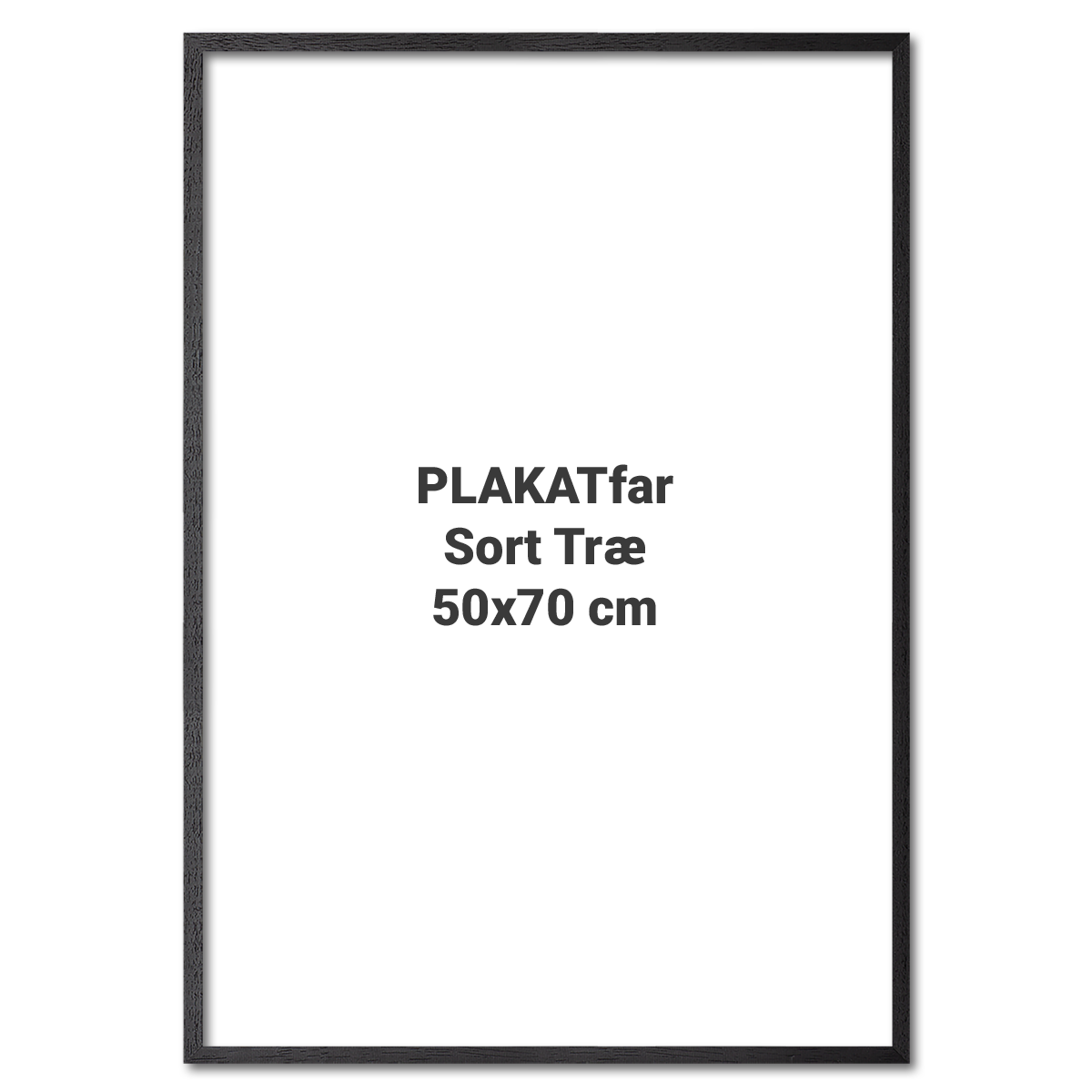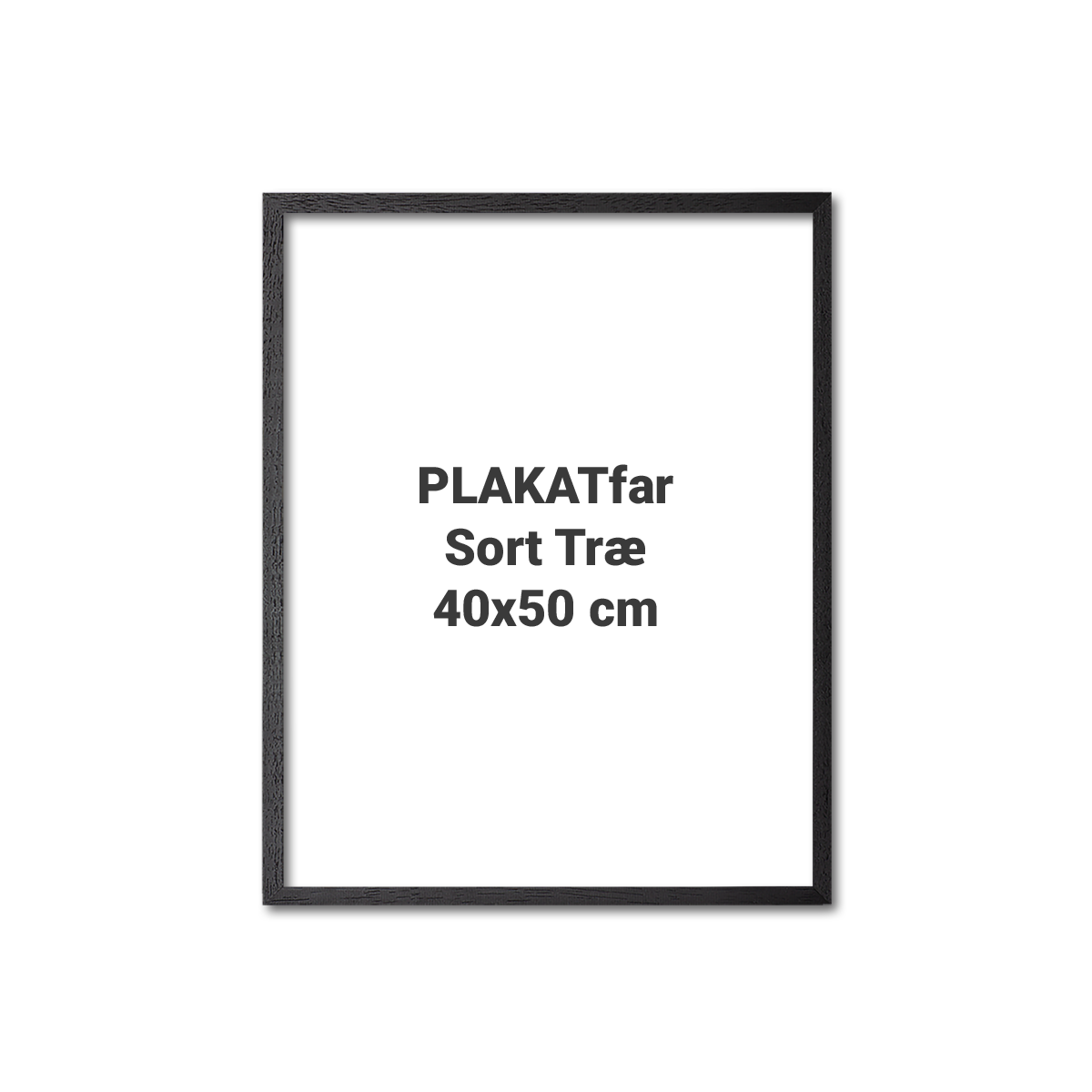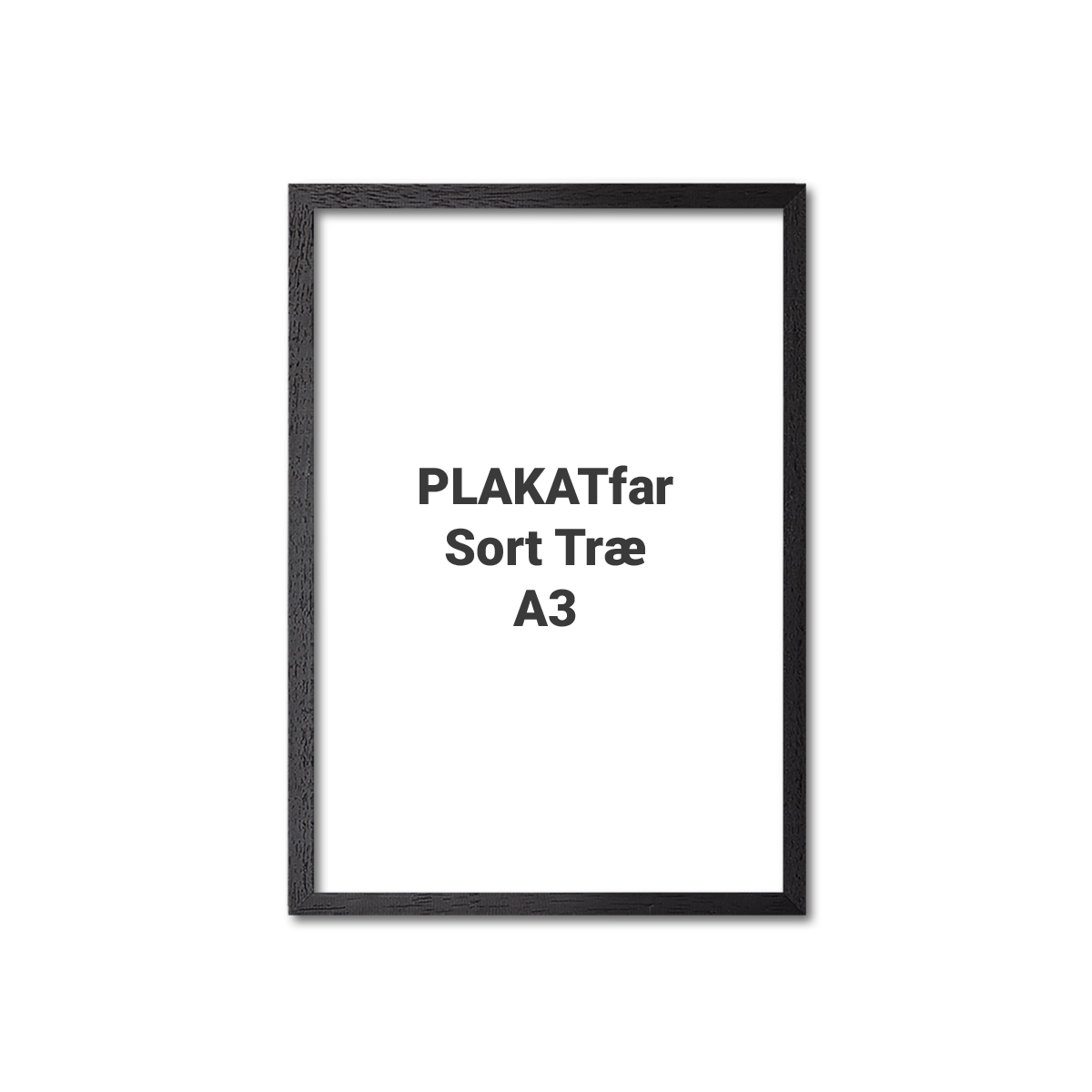 Blandt vores kunder finder du