SAVE 👉 on 2 posters 15% - 3 posters 20% - 4+ posters 25%
the discount is deducted on the payment page
Sale price
179,00 kr
Regular price
179,00 kr
Unit price
per
Sale
Sold out
---
✓ Cheap Delivery
✓ Delivery 3-8 work days
✓ Solid wrapping
✓ 30 days return policy
---
Information:
OBS: 100x140 cm frames are NOT shipped outside Denmark
The frame sizes are internal dimensions, and are therefore the size of the image it fits.
The frame has a metal suspension on the back, so it can be hung both vertically and horizontally on the wall. The frame opens from the back using the metal clips that rotate to the side, making it easy to frame your art.
It is not possible to run a store without leaving its mark on the environment. But there is no reson not to leave as few marks as possible.
That's why we print on FSC-labeled environmental paper and only use wooden frames made of FSC-labeled wood. It is your assurance that the products come from sustainable production
We print in Denmark and your posters will only be printed when you order. In addition, we only use water-based pigment inks that have a very long shelf life.
At PLAKATfar, it's not about selling as many posters as possible. Every single motif is therefore carefully selected and processed, by ourselves.
We print exclusively on 230 gr. matt paper. It may not tell you much, but when you have it in your hands, you have no doubt about the quality. The strong paper ensures that the posters do not curl in the frame.
Our frames are made of the best materials, and in a high quality level. The wooden frames are of course made of solid wood, which gives you both a beautiful vivid framing of your pictures, and our oak frames will fill your living room with the scent of freshly cut wood.
"We are not the cheapest on the market - but you will love our quality and customer service"
At PLAKATfar we have always delivered extremely high customer service. Simply because it is the only right thing to do. It should be nice and easy to shop with PLAKATfar, even if you regret your purchase.
We never ask our customers for reviews, but are very touched by the great reviews we get anyway, every now and then. You can read them by clicking below
PLAKATfar is a small Danish poster and picture shop that only sells unique own productions. The shop is 100% our own - Agnete Lønstrup and Niels Kliim, so we can do what we want - and we do ;)
View full details
---
---
Massivt træ og stærke samlinger
Alle vores trærammer er fremstillet af massivt træ, og med stærke hjørnesamlinger.
Lodret eller vandret - Du bestemmer selv
Alle vores rammer har ophæng, på bagsiden, så du kan hænge dem præcis som du ønsker.
Brug rammen igen og igen
Alle vores rammer er skifterammer, så du selv let kan skifte billedet og genbruge rammerne.
---
DESCRIPTION
This delicious oak frame, originates from Italy. The frame's sleek and elegant profile has razor - sharp corner joints, and it comes with glass, also on the large frames in 50x70 cm .. The frames in oak of 70x100 cm and 100x140 cm are delivered with acrylic front. 
If you want your oak frames delivered with acrylic, regardless of size, then of course it can also be done.
NOTE: 
If you buy your posters framed, you save between 30 and 43% on the frames. You simply select the frame on the same page as you buy your poster.
The classic oak frame
If there is one frame that keeps selling, year after year, then it is the traditional oak frame, and that is basically probably not that strange. In addition to framing most motifs in the most beautiful way, the oak frame, in itself, gives both a warm and elegant look to your walls.
There is no doubt that frames of solid oak fit really well into a traditional Nordic, or Scandinavian, if you will, interior design. Here it is often the classic minimalist forms that are prevalent, just as we love to surround ourselves with untreated wood in many shades.
Oak frames in Italian design
Our oak frames originate from Italy, and are designed in a very minimalist and exclusive design language. Completed tight lines and precise joints are just a few of the hallmarks of our solid oak frames. 

Other features are the strong brackets that make the hanging of the picture frames an easy case and the smart hanger locks that make it a breeze to mount posters or pictures in the oak frames.
As with all our other picture frames, the oak frames are also made with elegant slim solid oak profiles. You should note that the frame profiles change according to the size of the individual oak frame.
Picture frames of solid oak are vivid
Wood is a living material, and you will therefore find that no two frames are exactly alike. Varicose veins and sound will vary from picture frame to picture frame, but this only helps to emphasize the warm and exclusive look that the oak frame gives.
Just as the expression on the individual solid oak profiles varies, so will the sound, or color if you will, of the wood change over time. As a starting point, our oak frames have a warm reddish brown color, which only gets more beautiful with time. This is because the poster frames are made of untreated wood, which is affected by light. It's not a mistake - it's a quality.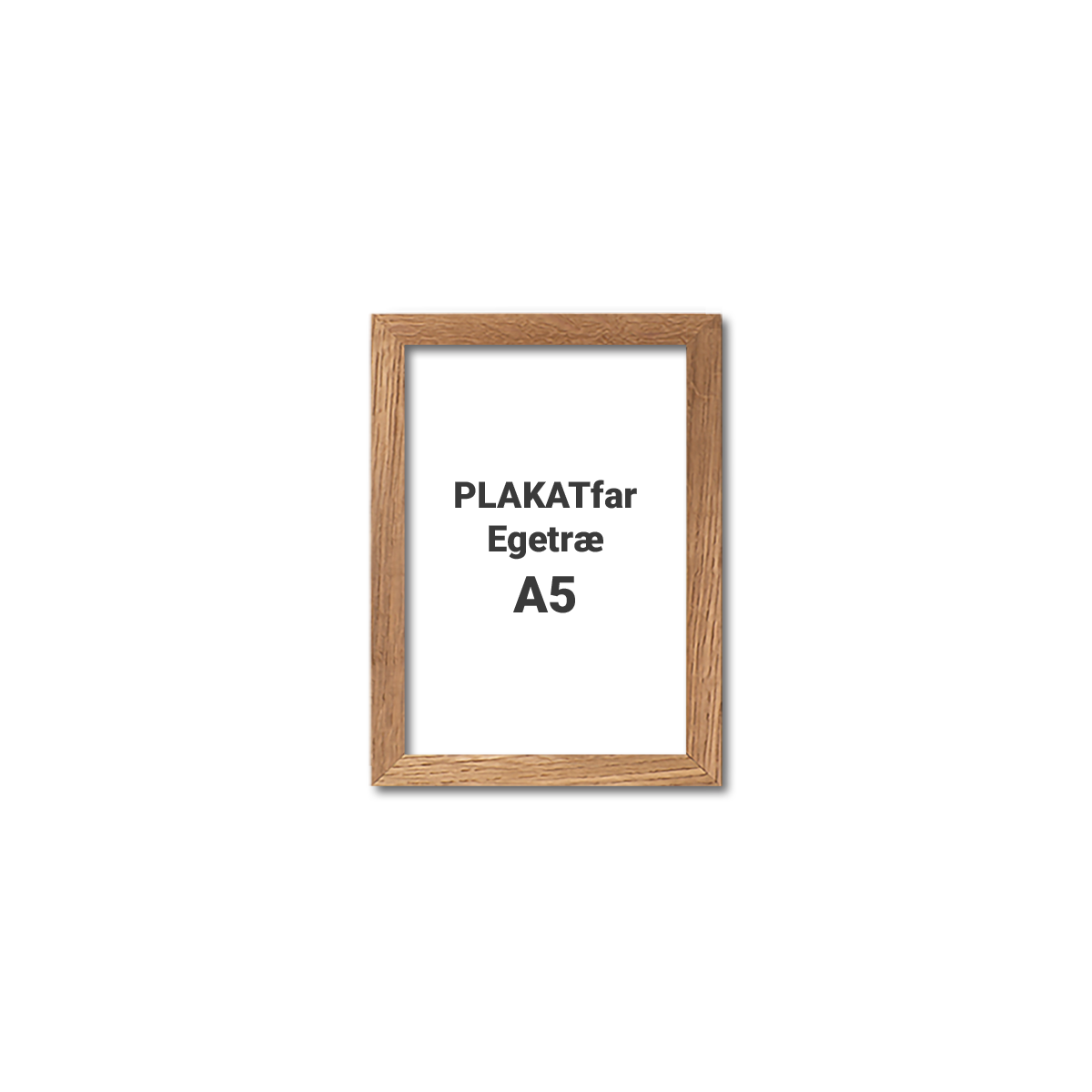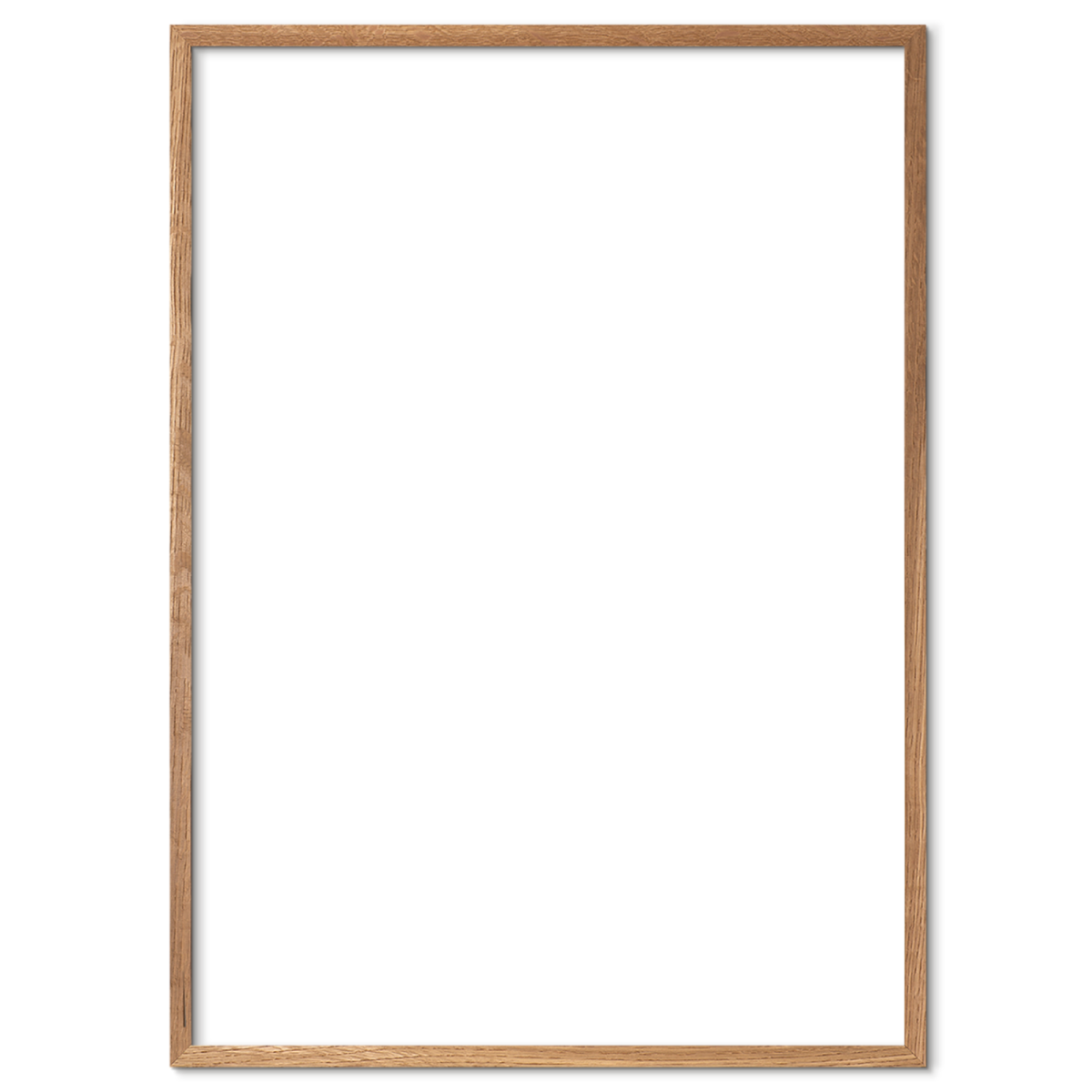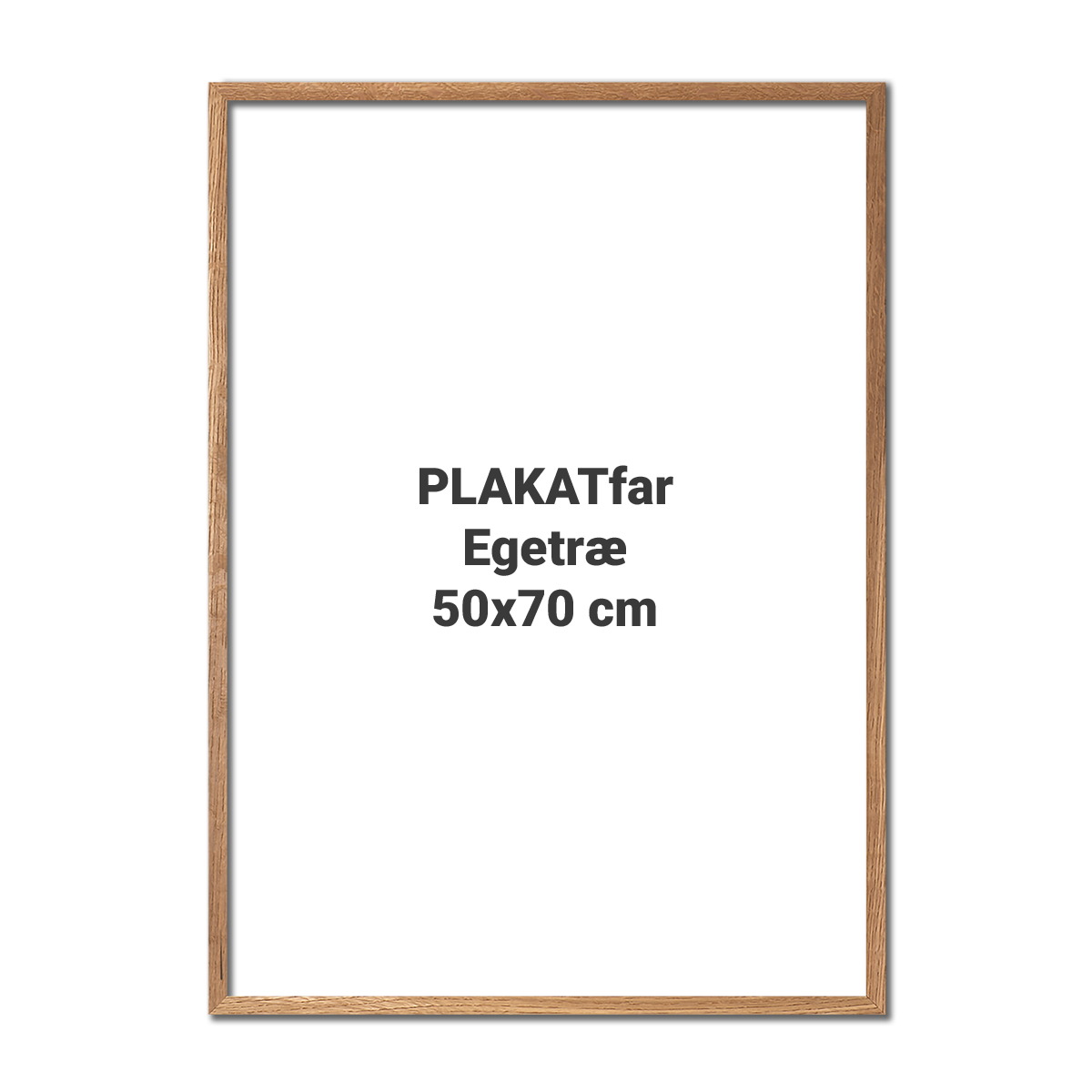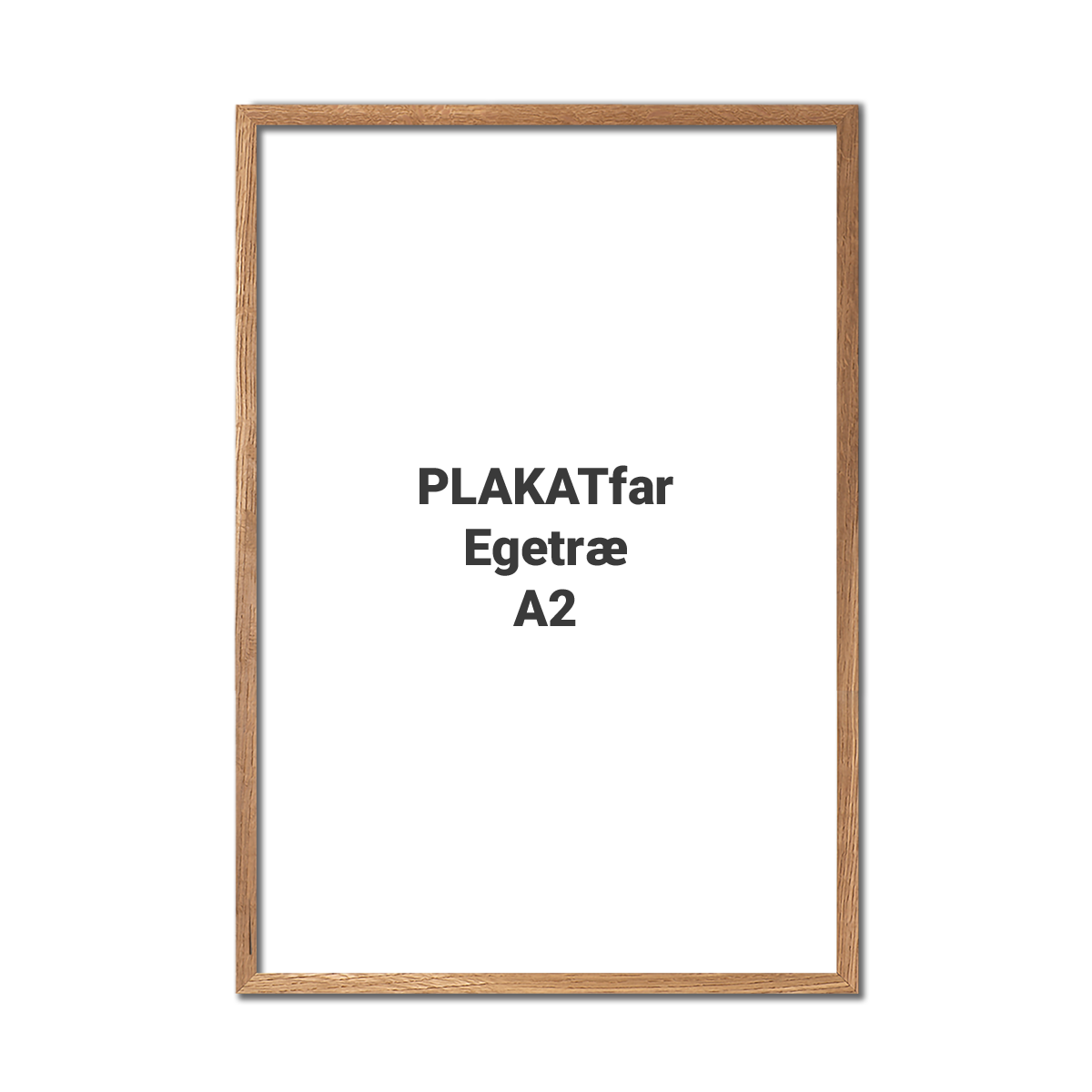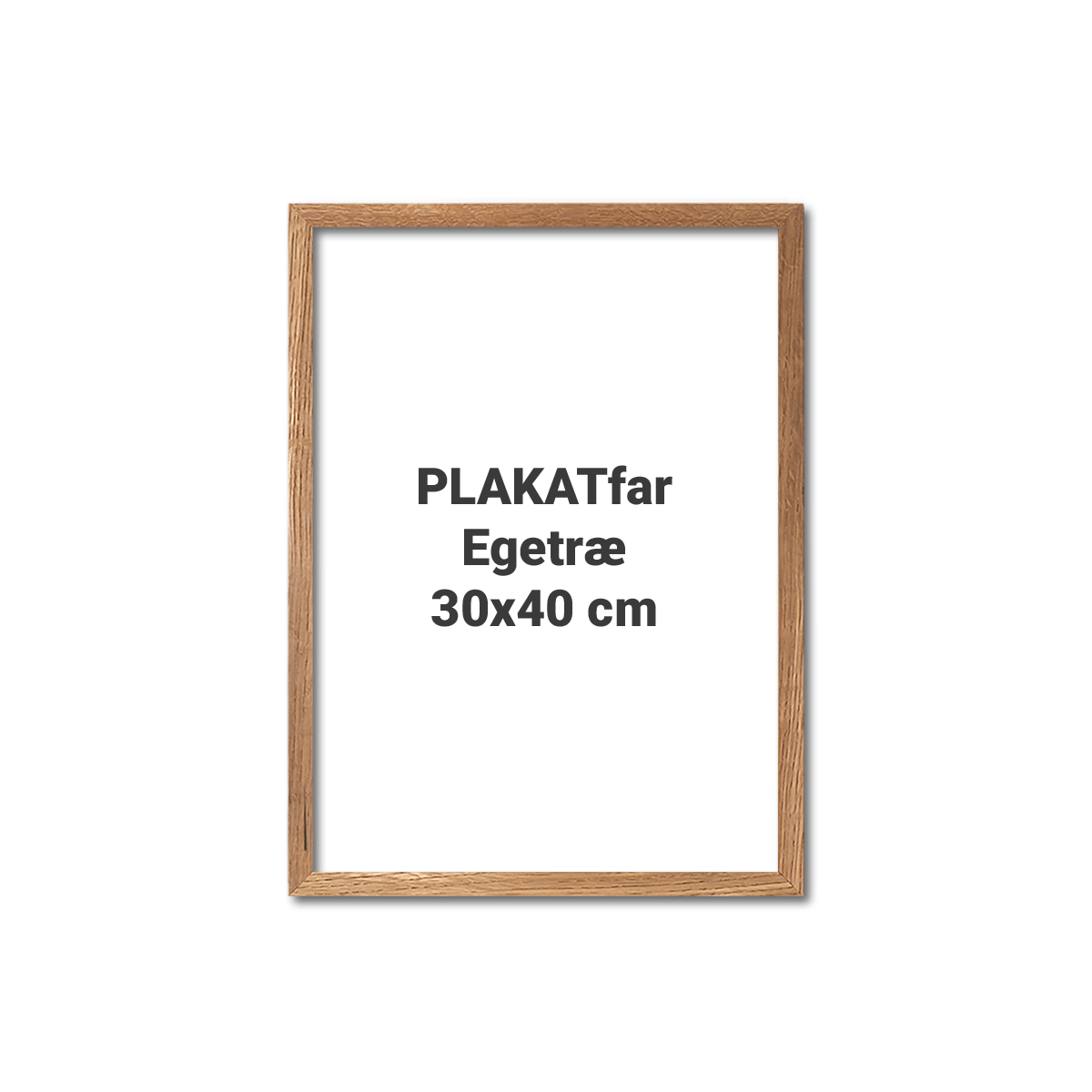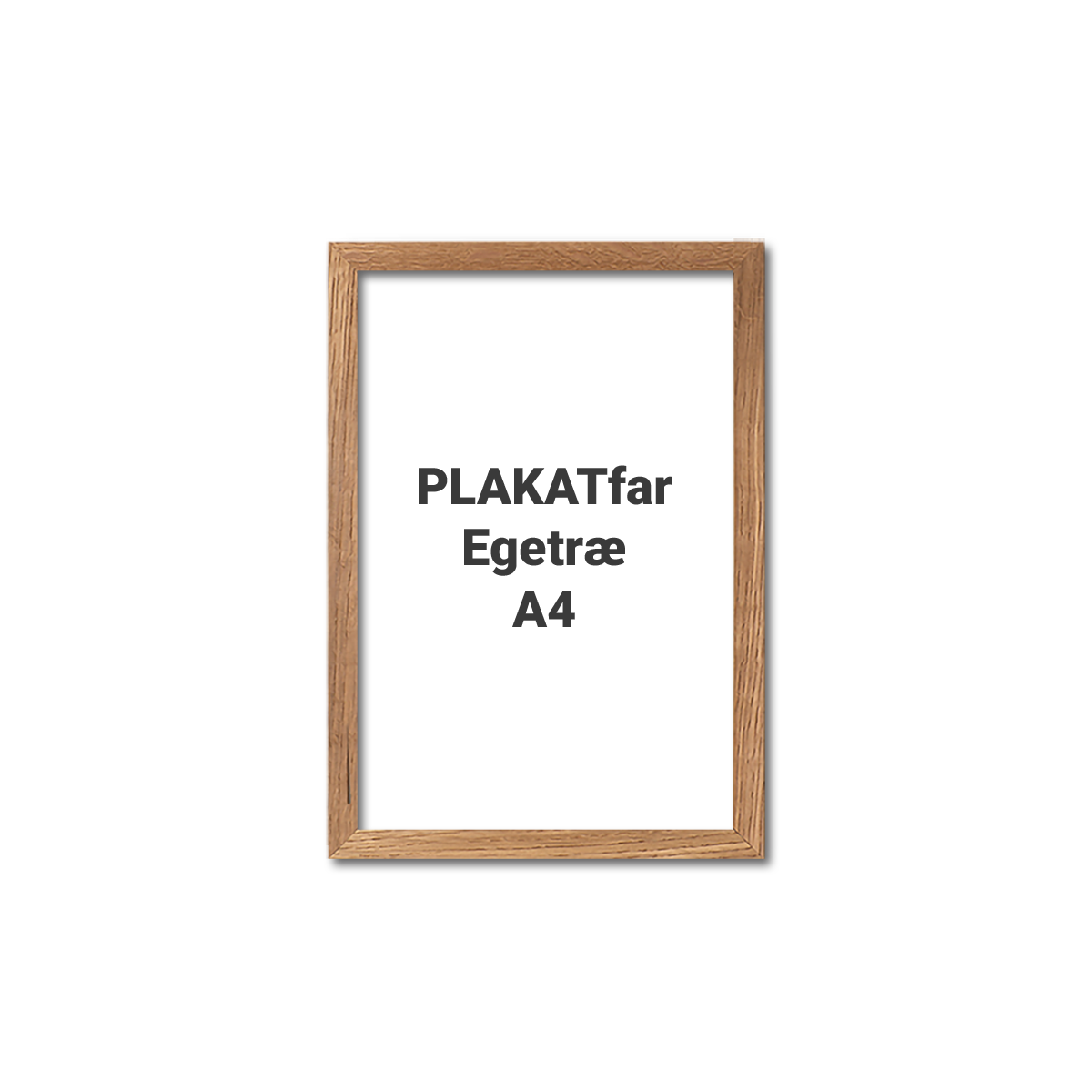 Blandt vores kunder finder du